Statutory warning:
1) Make sure that You don't attempt a 'transformation drive' after reading this
2)A significant proportion of our income comes from the beloved 'Kerala State Beverages Corporation Limited'
3)Beverages Outlets are the only places where you can find real calm and serenity...Long silent Queues...where aaal ees welll...
4)Don't attempt to pronounce the scribbled names without a binge...(applicable to non medicos) You might not succeed #jargon
5)I repeat don't make an attempt to re-read it or wiki for the following terms
6)Now make a quick glance...REALLY QUICK ONE ;) instructions follow...

CONSEQUENCES OF CHRONIC ALCOHOL MISUSE
Neurological
Cardiac
PSYCHIATRIC AND CEREBRAL CONSEQUENCES
Alcoholic hallucinosis

Alcoholic 'blackouts'

Wernicke's encephalopathy: nystagmus, opthalmoplegia, ataxia, confusion

Korsakoff's syndrome: short-term memory deficits, confabulation

THAT'S IT...SO IF YOU ARE A NON MEDICO...JUST UNDERSTAND THAT MOST OF THE TERMS THAT YER EYEBALLS ROLLED OVER REFER TO SERIOUS CONDITIONS, AND MOST REQUIRE A DECENT PARTITION OF YOUR PURSE FOR THEIR MANAGEMENT.

AVATAR'S ONE WEEK COLLECTION RECORD IS ALWAYS BROKEN BY KERALA BEVERAGES CO. IN A DAY (esp.New year n X-Mas eves)

SO DO DRINK...when required...IF YOU ARE RICH ENOUGH, DO THAT AS FREQUENT AS POSSIBLE, IN MAXIMUM QUANTITIES(STAMINA APPLY)...TRY NOT BE A BURDEN TO OTHERS THAT'S ALL...SURE FUN IS YOURS

WHEN IT COMES TO DRINK SKY IS NEVER THE LIMIT :)
SO FOLKS SEE YOU AT THE CLINICS...EMERGENCY ROOM, OP, OT...OOOPS...NO NO I'M NOT CANVASSING PATIENTS K ;) (not qualified yet...but yeah if you start now you'll be fit to meet me once I graduate)
(PS. Came through the list of conditions while glancing through Davidson's Principles & Practice of Medicine...yeah you've got it...Internal exams starting on Feb 11th...n err...before my advisory board begins to fire me for blogging amid eggjams...trust me this didn't consume much time...didn't even let the minute hand sweep far)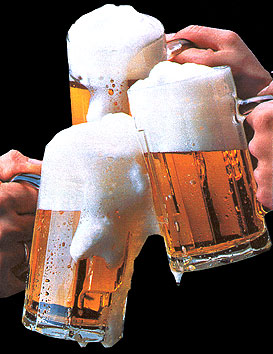 CHEERS...!!!
C U IN HELL...errr...no more sarcasm...let's make it Heaven !!
(images from google...worth mention is 'crazy malayalam')